[XBOX 360 - Votre Gamertag]
Ce Wiki a pour but de répertorier l'ensemble des gamertags des J0Liens afin de simplifier nos éventuels rencontre sur le Xbox Live.
C'est pourquoi, vous trouverez ci-dessous la liste des GamerTag classés par ordre alphabétique accompagné du pseudo J0lien de cette même personne.
Vous pouvez ajouter le votre en utilisant la touche "modifier" qui se trouve en bas de ce topic (seulement si vous avez au moins 3 mois d'ancienneté et un minimum de 50 messages a votre actif)
Vous pouvez également poster a la suite de ce message pour nous dire à quels jeux vous jouez le plus souvent ou pour proposer d'éventuels rendez-vous sur le Live.
Gamertag / Pseudo J0L
Gamertag
Pseudo J0L
Jeux Online joués
Disponibilité
A
A
Aky69
Aky
Gears of War 2, Ace Combat 6
soir et week-end
Acteon13
Acteon
AdenVo
Aden
AduNaph3L
AduNaph3L
Guitar Hero 3/4, XBLA, Call of Duty 4, Rockband 1/2, Left 4 Dead, GoW 1/2
Ahion
Ahion
Gears of War 2, Street Fighter 4
AlcoOri
Alco
GTA IV, GOW, Rock Band, Guitar Hero 3, Crackdown...
apteis
apteis
FIFA09, SC4, Smackdown VS RAW 2009, CC
Ariakah
Ariakah
Guitar Hero 3, Mass Effect, Call of Duty 4
Artifactory
Artifactory
Soul Calibur IV, SFIV, Battlefield Bad Company 2, Serious Sam HD, Gears of War, Gears of War 2
En soirée.
Aulwi
Nosgrochon
Street Fighter IV
Aylian Antares
Aylian Antares
Astellig
Astellig Othey
GoW, GRAW, GRAW 2, Halo 3, Sega Rally, DOA 4, Puzzle Fighters HD, Bomberman Live, Burnout R.
Arzif
Fernand
Guitar Heroes 3, GoW, Halo3, Cod4, Pes8
Axelon4FR
Louis la Brocante
Fifa 10, MW2
Antho27389
27389
Call of duty 5, Sacred 2
Akso
Aks
Fifa11, COD6, Naruto,...
Archikube
Gwarg
COD MWII , Castle crashers...
B
B
Babbaluci
Fosterkane
GTA IV, Castle crasher,lost planet,worms,1942, N+
Babouchska
MorteTach
GTA IV, Fable 2, Left 4 Dead, Guitar Hero World Tour, Gears of War 2
BaC SeY31
Leolina
Fifa, CoD 4/MW2, Halo Reach.
bejektann
Squalinou
Saints Row
Bdingurth
Belth
Halo Reach, Fifa 11, Borderlands
bibiseb
Homesick Monkey
Street Fighter IV, GTA IV, Forza Motorsport 2, Dead or Alive 4, BF: Bad Company, Soul Calibur IV, Castle Crashers
bLadou
bLadou
GH3, DMC4
Bloodstone FR
Edge]Stone
]Forza 2, GTA IV
C
C
Chrysia
Chrysia
Halo Reach, SCC
Caepolla et cie
Caepolla
Battlefield 1943, Resident evil 5, Soulcalibur IV, Civilization revolution, GTA IV, Worms
Cailiad
Mawsiimi
Gears of Wars 2, Halo Reach
Callime
Callime
Virtua Fighter 5, Street Fighter 4
SpaceMonkey38
Clawstrofob
COD 2, Street Fighter 4
Caradhras/Cyllane
CaradhrasValk
Fable 2, Left 4 Dead, Mass Effect
cerann
Cerann
CyKoH
Anthodev
CoD6, Super Street Fighter 4, Worms, Castle Crushers, Ikaruga
CedOnline
c_O
SF4, GoW2
Charlouf
Charlouf le ouf
SF4 / Forza motorsport 2
Capitaine Méduse
CptMeduse
Castle Crashers, Call of Duty 4
D
D
Daarky <3
FORZA DAARKY
Cod 6, Fifa 10, Red dead redemption
Darnox
Darnox
Denipouic
EdouardBaladursGate/Doudou
SF4
Dobinou
Dobinou
drakc0409
Drakc
GoW2, Halo 3, Street fighter 4, COD4, Castle crasher
Dtbeasts
Beasts
Gow,,Lost planet,Castle crasher, fable 2 , uno , street fighter 4 , rock band 2
Duntah
Dunta
GH3, Roxx Band, GoW2, Castle Crashers, GTA IV, Halo 3
d3rut4
d3rut4
Halo3,CoD4Beta
Denael
Denael
GH3, VF5 , Rock Band , Top Spin 3 , Civ : REV , CoD4
Durbak
Tediz
Street Fighter 4
E
E
Elazh
Elazhul
Gow2
El Avocat
Mardram Rakar
Forza 2, Marvel Ultimate Alliance (plus le Live Gold pour l'instant)
Elemmacil
Shibal
Fable 2, Castle Crashers
Eriatan
Eriatan
Gears of War 2, Castle Crashers, GTA IV, Guitar Hero 3, Ikaruga, Bomberman Live
Erken69
Erkenbrand
GTAIV, GoW, CoD4, Halo 3, FIFA 09, Halo 3, Fable 2
Enipgm
Eni PgM
SF4, GOW2, RE5
Eug17135
Gabpirate
Madden 2009,Halo 3,Assasins Creed et autre.
Evollulah
Firebolt
Mass Effect, Eternal Sonata, Assasin's Creed, GoW, GRAW, Conan, Ninety Nine Nights,SoulCalibur IV, Halo3, Fable2, Viva Pinata2,
Exureris
Exureris
Street Fighter 4, GoW 2
exxxal
Exxal
Forza Motorsport 2, Bioshock, prochainement COD4, Halo 3 et GoW 2
F
F
Flochepakoi
Benoît du Taureau
Far Cry 2, Soul Calibur 4, Pure, Guitar Hero : World tour
Floflo64
Tihi
Finnsi
Finnsi
Gears of war 2, Soul Calibur 4, Virtua Fighter 5, Halo3, Guitar Hero 3
Freez1984
Freez
Street Fighter IV
G
G
Gabriel Thylin
Gabriel Thylin MSF
GOW, GRAW, Marvel Ultimate Alliance, UNO, Saint's Row, Splinter Cell : Double Agent, Rainbow Six : Las Vegas, Table Tennis, TDU, Texas Poker
Garith BE
Garith
COD 4 - Ao2 - Halo3 - Crackdown
Glennorth
Kyuuki
Halo 3 - GTA4 - Final Fantasy XI - Forza 2 - BF bad Compagnie - Dead or Alive 4
Gressmon
Gressmon
Halo 3 - GoW - GTA4 - Guitar Hero 3
Grunky Max
Grunk
GsTsuki
Tsuki-kun
Halo 3 - Super/Street Fighter 4 - Halo Wars - BlazBlue CS - Castle Crasher
GulsPoustache
Guls
Rock Band - Castle Crasher
H
H
Hachim0n
Hachim0n
Battlefield Bad Company 2, Splinter Cell Conviction, FIFA10, Gears of War 2, Forza 3, GTAIV, SFIV ...
HA2066
Jon S
Battlefield Bad Company, Bomberman Live Arcade, Gears Of War, Halo 3, Puzzle Fighter HD, TDU ...
Havocks
Sparrows
HokutoNoCat
T0m
VF5/SF4
HolyBTN
Dwahim / Ayviel
Street Fighter 4
Huuu
Ze MarMoTE
Fight Night 3, Dead Or Alive 4, Call of duty 2, Oblivion
Hypron
Galtian
Street Fighter 4, Castle Crashers, Bionic Commando: Rearmed
H4ken
Hkn
Forza 3 bientôt 4, Halo 3 et Halo Reach bientôt Halo CE , GOW 2 bientôt 3, Saints row 2 bientôt 3, Fable 3
I
I
iOuL
iOuL
Castle crashers, COD 5, RE 5, L4D, Fifa 09, Bomberman
J
J
Jormung
Tego
Joyeux007
Joyeux007
JoKe Wayzor
Wayzor
Gears 3
Janvianoce
Janvianoce
Rock Band, GTA IV
judgement six
Judgement Six
Street Fighter 4, Gears of War 2, SoulCalibur 4
K
K
KanameAraya
Kaname
Gear of War 2, Resident Evil 5, Street Fighter IV
K Lagan
K-Lagan
Gears 2, MW2, Halo Reach
Quand je suis connecté
Koroeskohr
Koroeskohr
GOW, COD6, Halo Reach, Fable II, Street Fighter IV
Kerdh
Coloscopy
Orosked
Orosked
Halo 3, Halo ODST, Halo Wars, Dead Rising, GTA4, Mass Effect
Kerjz
Kerjou
Gow, Dead Rising, Saint's Row
Kardis Maern
Kardis
Street Fighter 4
Kig29
Kig
Blue dragon
Kurochevsky
Kurochevsky
Virtua Fighter 5, CoD 4, Street fighter 4
KuroiMiaou
KuroiMiaou
Soul Calibur IV, GTA IV, GRID,
KeKeL972
Praxitian
Halo 3, Forza 2, Guitar Hero III
Kirika Yuumura
Adriana/Astralya
GTA IV, Virtua Tennis 3, Forza 2, Fifa 08, GoW
Khorram
Khorram
Gears of War, Soul calibur IV, Forza 2, Street Fighter 4
KafL
Kafel
Castle Crasher, GTA IV, Fable 2, Street Fighter IV
Kyblinh
Kyblinh
SF4, Tekken 6, GoW2
Kydryss
Kydryss
Call OF 6
Kocinsky
Kocinsky
Halo Reach,SF IV,Sdown vs Raw 2009,L4D,GH5 ,Fifa 11
L
L
LeTHaL HunTing
Wait... Wat?
CoD4, CoD5, Halo3, Fable II, Guitar Hero:WT, Guitar Hero III, Modern Warfare 2.
Lodan1
Lodan/Arod
RigoRmoRtis
Lostwear
CoD4, L4D2, Red Dead Redemption, Borderlands, Guitar Hero : 4, 5, Metallica
M
M
Space Maug
Maug
Halo Reach, Fable 3, Naruto Ultimate Ninja Storm 2
Mallojnu
Gluck
Street Fighter IV, Guitar Hero III
MNEMIC 741
Seak
Street fighter 4, GoW 2
Midgorn
Midgorn
GOW, TDU, PGR 3, Forca 2
l Fremen l
Mushu
GOW2, Halo 3, Burnout Paradise, Forza 2, C. Crasher, SF4, Worms 2
MrToutoun
MrToutoun
un peu de tous, BF3 CoD MW3 GoW 3 L4D 1/2 RDR et bien d'autre
Mogwaiii
Twinsen
Meskhen
Meskhen
CoD 6/7, Halo Reach, Castle Crashers, GoW 2, Splosion Man
Myrhdin
Myrhdin
Tout ce qui ne commence pas par Call of Duty ou qui implique du sport.
N
N
Nabreus
Nabdys
GTA IV, Halo 3
NardzFile
NarDz
GoW, Saint's Row, TDU, Nba 2k7
Nesseuh
Nesspah
Fifa 12, Battlefield 3 Fable (tous), Halo (tous), Red Dead Redemption, WWE 12, Goldeneye reloaded
NyKOoS
NyKOoS
GoW, Fifa 08
Nyme02
Nyme
Tennis Table, UNO, GRAW, PGR3
O
O
Octavariums
Systematic chaos
GOW,LP ,VT3, worms, SF4
Ourukai
Ourukai
VT3, SF4, FIFA 09
OnkLeCactus
OnK / Ciladric
Orochi Naga
Orochi
SF 4, SC 4
Ozmoz21
Elty
GOW, SF4
P
P
Papa uru
Lapine des Mers
Peluchorz
Peluchor.
Halo3 / GOW2 / RB
Prosper Youpla
Puchiko
Castle Crashers, Left4Dead, Rock Band, Banjo, Flatout
Ptigran
Ptigran
GoW 2, Halo 3, Viva Piñata : Pagaille au Paradis, Saints Row 2, Resident Evil 5
R
R
RhaiTz
Rhaitz
Rhavinor
Rhivin
S
S
Salias Yesod
Salias
GOW,Halo 2,SCDA,CoD3,R6V
Shorushi
Albion
PGR4, COD4, VF5
Sakechi360
Sakechi
GOW
Sesha Tareson
Kharn Betrayer
GOW1+2,sf4,ghwt,RB2,RE5
Setoss
Sétoss
Sire Otori
Howls
Street Fighter 4, Halo 3, Castle Crashers
Sirthator
ThatsTheWay
FIFA 09, NARUTO BB
Soryon
Skalp
Lost Planet, GoW
St4nley
Melissa / Lucky
Sylar
Fraülein Oka
Starlito
Starlion
GOW, Dead rising, COD 2
Sp00ty 49
Spooty
Gear of war , Halo 2, Halo 3
Stylzz91
Stylz'Z
Halo 3
T
T
Thrks
Music
SF4, FIFA 09
Timeon
P'titdop
Gears of War
Totoo59
Totoo
Tuco The Ugly F
Eiwahe
TogaX
Toga
Virtua Fighter5, Forza2
Tranb81
Tranb
Street Fighter 4
V
V
Valildric
Valildric
DOA4, COD2
W
W
Wayne RSH
Wayne
SF4, RB2, Skate 2, GH4
Wedge THF
Wedge
RB2, GH4, SF4
VVonk
Wonk
SF4
Y
Y
Y4nzu
Yanz
Yuei
RxWill
Street Fighter 4 , GOW2, Guitar hero world tour, Fable 2, halo 3
Z
Z
ZYNIA
Zynia
Castle Crushers, Splosion Man, MW2, Scc, VF5, Kof12
Comment ajouter un gamertag
Vous aurez 2 solutions :
- la première directement via la console. Allez sur le board de votre console dans l'onglet Xboxlive.
Cliquez ensuite sur Amis. Pour ajouter un nouveau Gamertag, appuyez sur le bouton Y. Entrez le nom. Une requête va partir et une fois acceptée, c'est tout bon.
- la 2ème solution se fait via le site xbox.Com. Une fois authentifié, on peut afficher les amis en ligne (liens juste en dessous de la liste d'amis). Ensuite en haut vous trouverez la possibilité de rentrer directement le gamertag et de l'ajouter. Personnellement cette solution est plus simple et plus rapide.
Comment créer votre signature
Voici quelques URL de sites pour vous aider a créer vos propre signatures:
-
http://www.glop.org/gamercard/
Exemples de présentation :
-
[Lien Mort]
http://www.mygamecard.net
Exemples de présentation :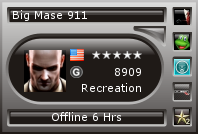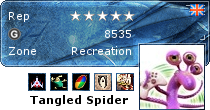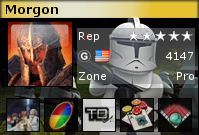 -
[Lien Mort]
http://www.sectionviiiclan.com/index.php?/gamercard
Exemples de présentation :
-
http://www.lusogamer.com/gamercards/live
Exemples de présentation :
-
http://www.xboxlc.com/
Exemples de présentation :
A vous

Discussion sur cet article :
237 messages
(Dernier message : 29/01/2012 - 11:17:36)
---